After finally finishing the 1/48 scale B-25B Mitchell, which followed right on the heels of the 1/48 scale PV-1 Ventura, I really wanted a break. Something easy, and something quick. Between the last two builds I invested nearly a full year. So when the opportunity came to build the new Academy 1/72 scale F-4J Phantom, I took the plunge. Considering I haven't built a 1/72 scale aircraft in more then 35 years, I didn't really know what to expect, or even if these old tired eyes were up to the task.
I've already blogged my build of the 1/48 scale Academy F-4B, and I've heard that the 1/72 F-4s are more like little brothers then just a completely new kit from scratch. So I was more then just curious to what I was in store for when I opened the box up.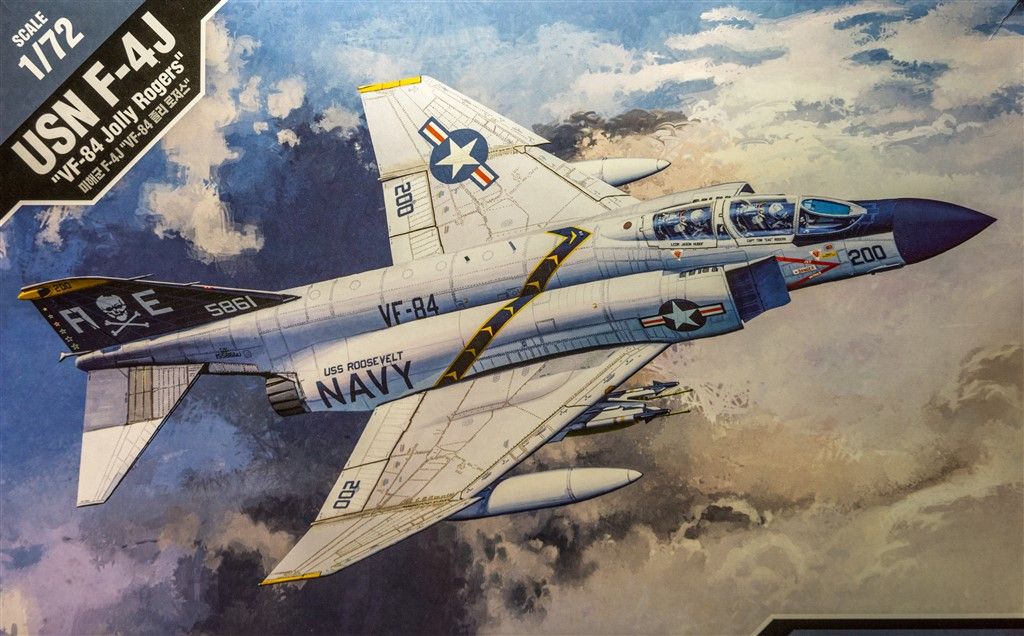 The 1st thing that I noticed was that the kit was in three colors, so painting wasn't necessary, but recommended. And that the kit itself is basically a snap-tite kit. In the past that meant a very simple, basic kit with a minimum of details. But after a close inspection of the trees, the scribed detail looked just like the scaled down version of it's big brother.
The one page decal sheet was once again printed by Cartograf which includs the stencils, rather then a separate page printed by Academy as was the case with the 1/48 scale version.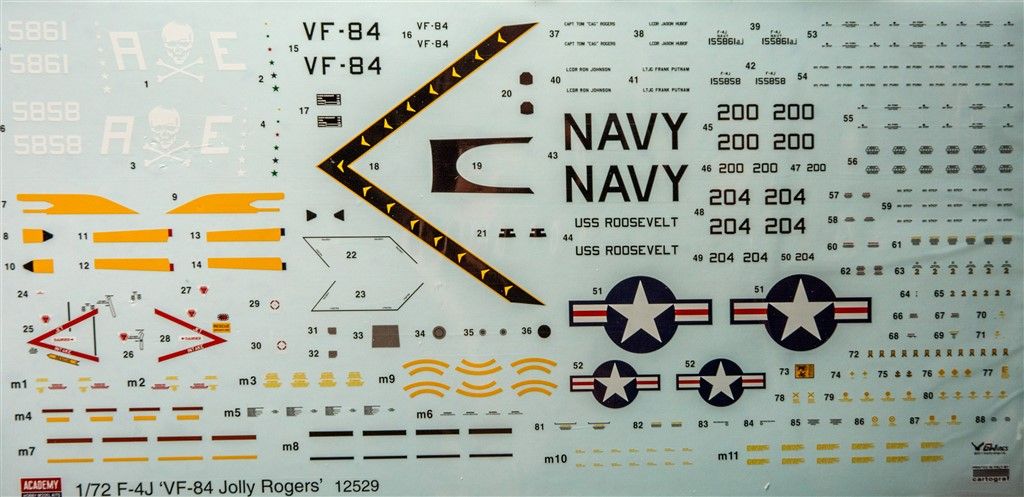 I started off with the cockpit, and there was a totat of just 11 pieces, plus 6 pcs for the two bang seats.
I opted to paint the cockpit and interior walls of the fuselage Tamiya XF-66 light Gray, but it looks close enough to FS 36231 as called out for the cockpit in the kit instructions. I left the two IPs in the raw black plastic color, but hand painted the gray panels sections. Then using a drop of Pledge to simulate lenses in the larger instruments.
Using Life Color Matt Black I also hand painted all the side panels, & when dry I drybrushed them to bring out the details. To my surprise, the panels really do look quite detailed.
I then airbrushed the side cockpit sills flat Matt Black, and test fitted the cockpit.
So far the fit has been exceptional.
Joel