So there I was, having just finished a 1/72 p-51b and still feeling the need for not only another 1/72 build but also another mustang. The ongoing fighter bomber campaign seems a perfect excuse to scratch both itches with this tamiya f-51d.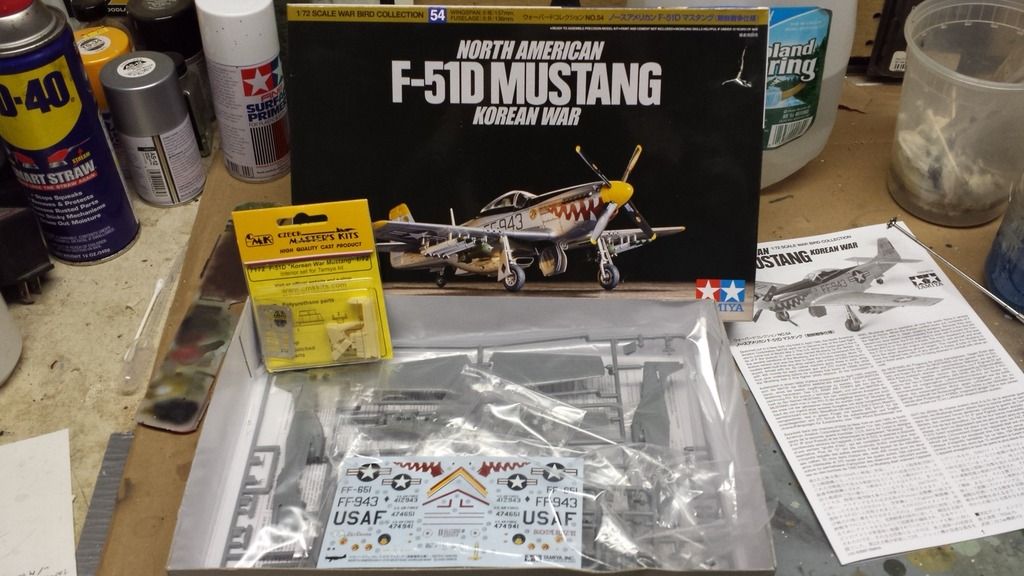 The f-51d, as it served in korea is the quintessential fighter bomber. From 1944 to 1950 the p51d went from the envy of many fighter pilots the world over to an unglorious extension of the US Ordnance Department.
You may notice a CMK resin interior set. I've since decided I wanted to keep this build simple and not use it this time. Being a nicely detailed kit It shouldnt be hard to leave it alone and keep up momentum.
I'm not sure yet about markings just yet just that this will be a korean war mustang of some flavor. The kit decals arent too exciting and so far I've found the after market devoid of 1/72 USAF options but the search continues. Im also considering ROKAF, RAAF and SAAF schemes if available.
I started this build in the front office. Many korean war mustangs had been refurbished and got black painted cockpits so I gave the interior a coat of tamiya flat black, followed with nato black and then german grey high lights. Next I painted various boxes and cockpit structures varying shades of black and dark gray and then dry brushed it overall with dark gray. The next step was a black wash and after that dried out came the color pencils mainly using red and a couple shades of gray. OD bits are painted with tamiya OD and dry brushed with dark yellow. Here is where I stand as of now
Not shown is the K14 gunsight which is coming along just as nicely. To finish up the cockpit I just need to decal the instrument panel and make up a harness. The white blobs on the cockpit floor is micro kristal clear on the wing tank fuel gauges.