Meng's 4-door Pickup Truck
Posted: Sunday, August 23, 2015 - 12:40 AM UTC
I was trying to determine the specific model, but the best I could determine was that it is an early 1990's Toyota model. I could not find any pictures of a truck exactly like it. Did Meng do that deliberately?
England - West Midlands,
United Kingdom
Joined: July 24, 2004
KitMaker: 318 posts
AeroScale: 1 posts
Posted: Sunday, August 23, 2015 - 01:25 AM UTC
You are correct it is a 1990's model Toyota there is a resin grill available from Monster Model. Meng did indeed keep their vehicle as a generic vehicle to avoid any licensing issues, as did Takom and DioPark.
Massachusetts,
United States
Joined: December 14, 2010
KitMaker: 79 posts
AeroScale: 0 posts
Posted: Sunday, August 23, 2015 - 03:02 AM UTC
The 4-door is a fifth-generation Hilux (dual cab version), while the two-door is a 70-series Land Cruiser.
Rhone,
France
Joined: December 02, 2002
KitMaker: 12,683 posts
AeroScale: 12 posts
Posted: Sunday, August 23, 2015 - 03:10 AM UTC
AFAIK, this kit represents a 1997 Toyota HiLux 4x4 Duel Cab SR5.
The pictured pick-up is an Australian right-hand drive one
H.P.
Colorado,
United States
Joined: January 20, 2005
KitMaker: 7,183 posts
AeroScale: 101 posts
Posted: Wednesday, August 26, 2015 - 06:12 AM UTC
It is exactly the model shown below. (Those are my AMF dudes in Paktika province) I did an "unofficial" review here on Armorama of the kit when it came out as it was my first collaboration with Meng. In it I posted a photos of the cab body in front of the photo. Try it for yourself. Enlarge your screen and compare your kit piece with the photo.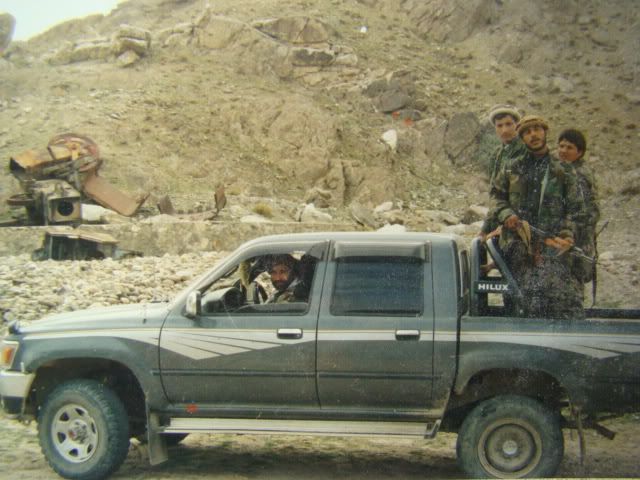 Posted: Thursday, August 27, 2015 - 10:27 PM UTC
| | |
| --- | --- |
| | |