For as long as I can remember I've had this love/hate relationship with the Brewster Buffalo. Having a deep interest in WW11 aircraft, & specifically the Pacific theater of Operations, the Naval air battle at Midway on June 4, 1942 has always been a historical focal point for me.
On December 25,1941, 14 F2A-3 Buffalos of VMF-221 arrived via the USS.Saratoga CV-3, at Midway Island. On March 28,1942, 8 additional F2A-3 Buffalos arrived via the USS.Curtiss AV-3, and finally 7 Grumman F4F-3 Wildcats arrived by the USS. Kitty Hawk APV-1 on May 26, 1942. This was then the entire defensive air combat force available for the Battle of Midway.
After the air battle, these were the losses that VMF-221 suffered:
Aircraft: 12 F2A-3, 2 F4F-3
Pilots: 13 MIA, 1 KIA, 4 WIA 4
And this was what was left in flyable condition on June 6th, 1942:
3-F2A-3
3 F4F-3
VMF-221 claimed 16 kills of various aircraft. All the remaining F2A Buffalos in active service were replaced shortly after Midway, and became advanced trainers for the Navy.
I've never built a 1/32 scale aircraft since coming back into the hobby, as 1/48 scale has always been my preferred scale, but when I came across the 1/32 scale Czech FA2-3 Buffalo just gathering dust literally in the corner at a hobby shop near work that specialized in RC helicopters, I just had to have it.
The Czech Model 1/32 F2A-3 is a limited run multi-media kit, which also is a 1st for me. My goal for this build is to enhance the detailing where I can, with the main focus on creating a best display aircraft model of Capt. William C. Humberd USMC FA2-3 Buffalo on June 4,1942: VMF-221 3rd Div.Aircraft# MF-15, Sn# 1553.
As with nearly all aircraft models construction starts with the cockpit. And this cockpit starts with a sub assembly for the IP and rudder peddles. The two IP panels consist of a plastic backing plate, a acetate sheet with the Instruments printed on them. You need to paint the backs flat white, which I did with Tamiya XF-2 flat white, then the PE face, which I painted Tamiya XF-69 Nato Black as I feel that XF-1 Flat Black is just too stark for a scale black.
The rudder peddles are comprised of several various media pieces including the side pistons. I painted them Model Master Interior Green FS34151, and dry brushed them. The mounting plate that comprises these parts was also painted MM IG.
There is a secondary IP under the main IP, and depending on which variant you're building, you need to select the right panel. Of course I screwed that up, and I had to remove the panel, paint, and install the correct one. I really need to read the directions more closely as I go through this build since this kit has the options to also build the export Model 339-23.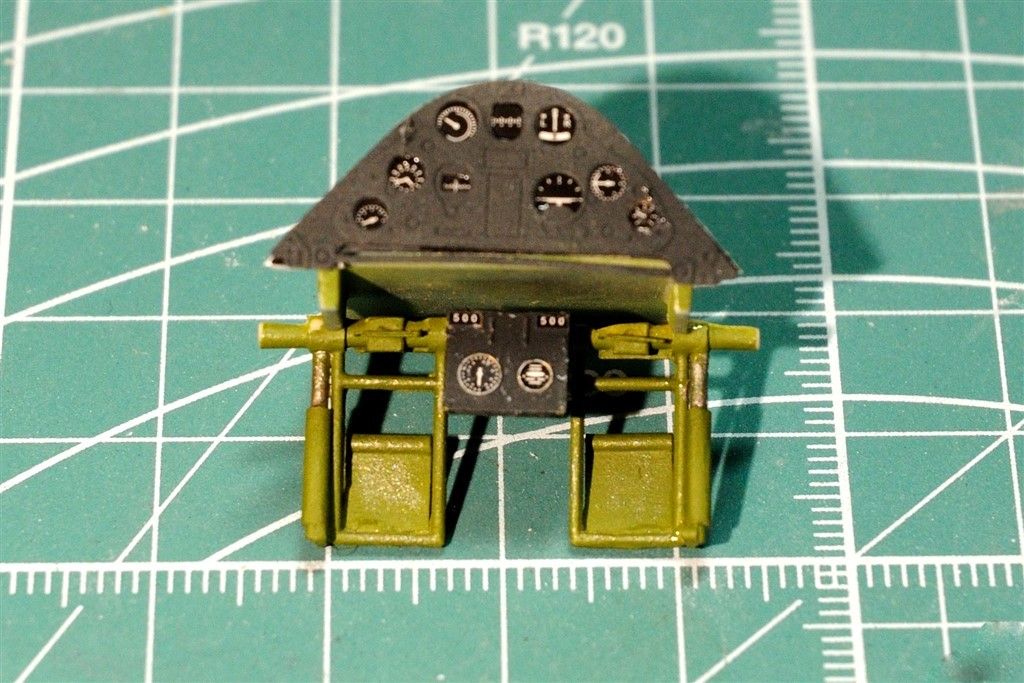 I decided to go with Interior Green rather then Green Zinc Chromate as I was concerned that once I do the dark dirty washes for the full cockpit and interior, and close up the fuselage halves, that the overall effect would be just too dark.
Joel