Hello all,
I was looking at my stash for a one final aircraft build before 2011 was over, when a friend suggested that I build one of the Tamiya's P-47 kits if I had one. Having a huge stash, of course I did! (even with all the after-market goodies for 4-5 P-47 kits, despite having only one kit in the stash
)
Here's what the intended project looked like at first. Of course, when I was buying the after market items, I was assuming I would be building a P-47 D-20 or a later series razorback. The items included are Eduard's zoom set, Master's .50cal gun barrels for P-47, Ultracast resin diamond-pattern uncovered wheels, Ultracast resin pilot's seats, Ultracast's Hamilton Standard propeller and an EagleCal decal sheet to build 56th FG aircraft. Yes I know, the after market probably costs as much as the kit (possibly more)!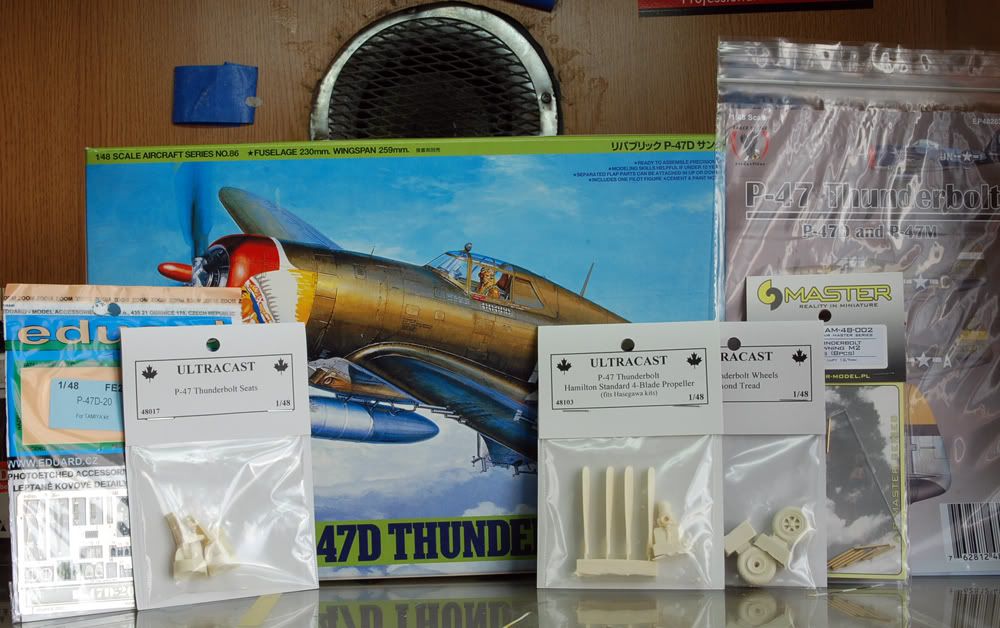 I wanted to build a P-47 with naughty nose-art. I had two sets to choose from... but much to my dismay, one of the sets included P-47s that were D-6 models (which requires some extra resin parts to back-date Tamiya's kit). That left me with the other set, which thankfully has the rather famous "Rozzie Geth / Boche Hunter", the aircraft of the American ace Fred Christensen, who scored 21.5 kills during the war (10.5 with this particular aircraft).
Of course, much to my dismay, Christensen's P-47 is a D-10 model. While you can build it using the Tamiya kit, I had to ditch nearly all of the after-market items except for the pilot's seat and metal gun barrels. The D-10 model has a Curtiss Electric propeller and wheels with covers, so goodbye to Eduard's zoom and Ultracast propeller and wheels!
After deciding which P-47 I was going to build, the construction began, as usual with the cockpit. The Tamiya kit is very detailed and goes together like a dream. I used Gunze's H302 to simulate Republic's cockpit green.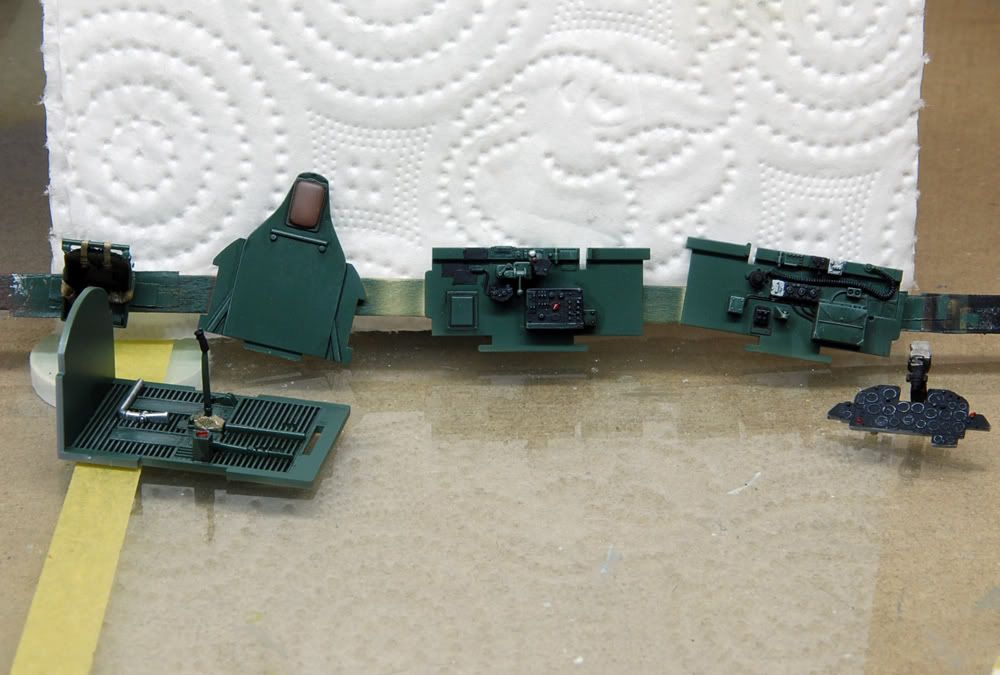 The fuselage was mated without problems and here's what's visible from all that cockpit work that took about a day.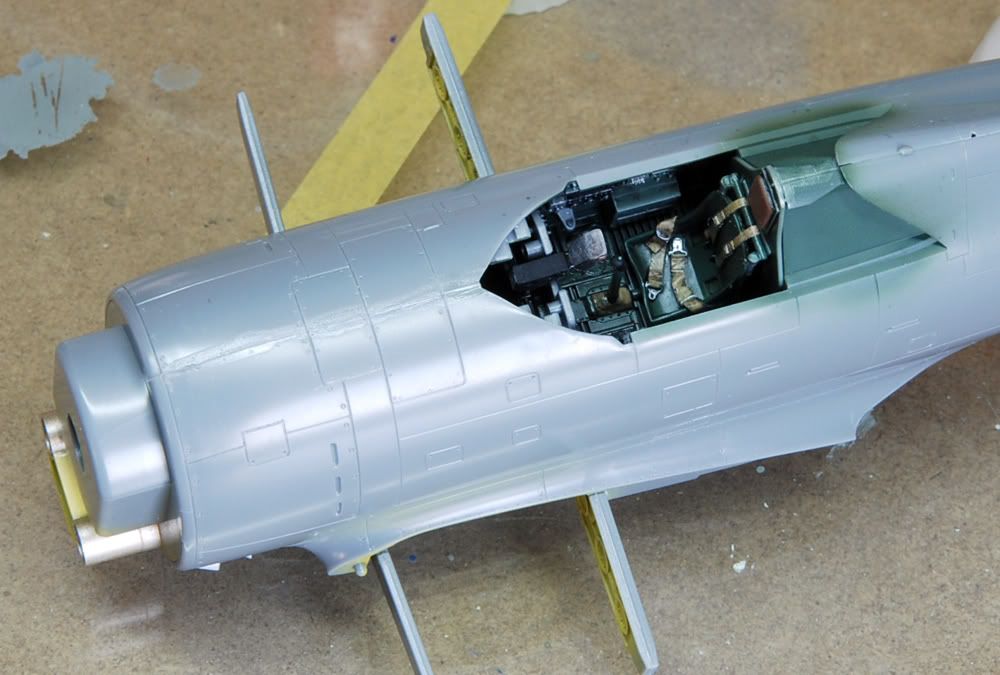 Today I got real early to get some painting done before work. First I sprayed flat black, then Alclad aluminium to required ares over the flat black. The propeller, a combination of these both, also got it's yellow and was complete. The landing gears and the engine are also ready.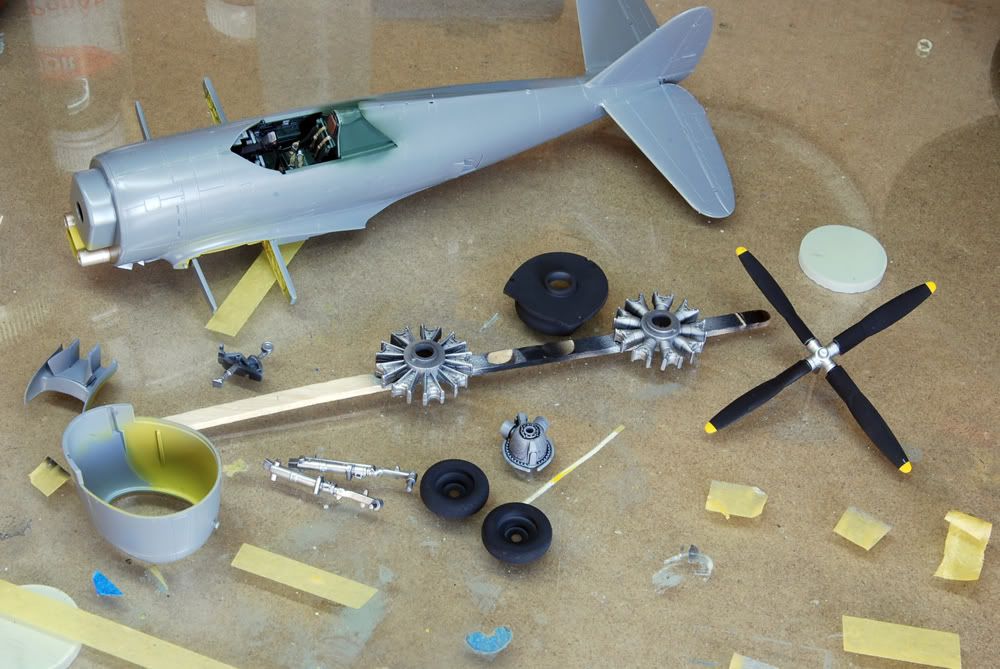 Today, if I have time, I'll assemble the engine and the wings and put the aircraft together.