After a trip to the
jet age
I'm back with a real aircraft. For the Fighter Campaign I've built a Hawker Hurricane Mk. I from Hasegawa in 1/48 scale in non-british livery.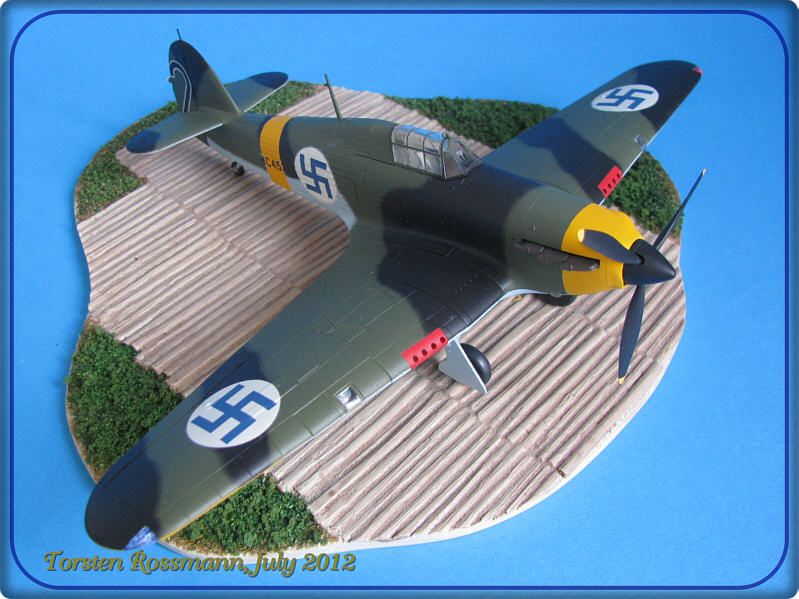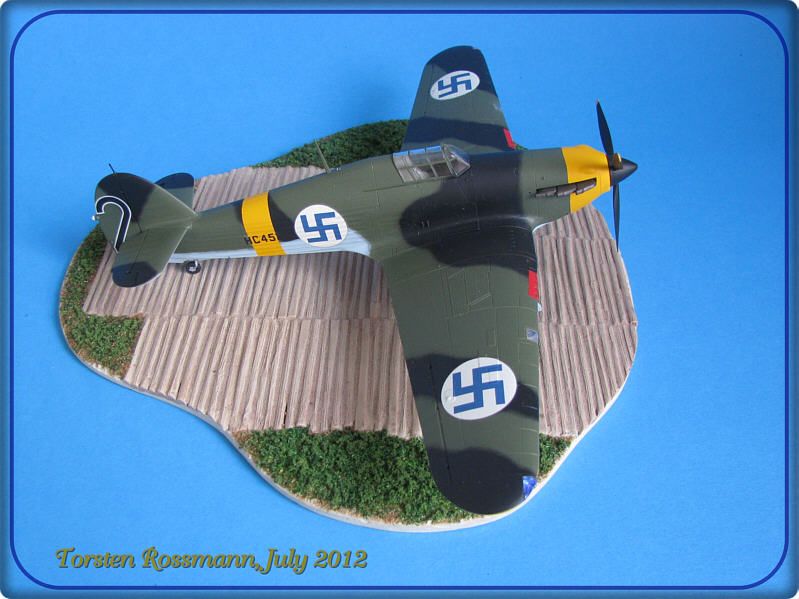 In early 1940 Finland purchased 12 Gloster made Hurricanes from Great Britain. The Finnish pilots took a commercial flight to London and further on to St. Athan, where they were trained by RAF pilots on the new fighter. And they even met King George VI there. The Hurricanes arrived in Finland in March 1940. HC-452 (ex N2394) was flown by several pilots in several units. Most successfull pilot was Lieutnant Esko Ruotsila, who flew this aircraft also with several units and scored 3 kills with it. Sadly he was shot down and killed on 20.05.1943 in MT-203 (a Bf 109 G-2) over the Gulf of Finland aged only 29 years. In October 1942 HC-452 went to the State Aircraft Factory for full scale repairs where the aircraft got also a new painting, the so called "sotamaalaus" (warpaint). In July 1943 the Hurricane was stored at an air depot and in August 1944 she was removed from the inventory records, having flown only 208 hours. There was always an acute problem with spare parts. Captured or downed Russian Hurris where often used as a "donator". Today this old lady can be seen at the Finnish Air Force Museum in Tikkakoski, where she gets a complete restauration ....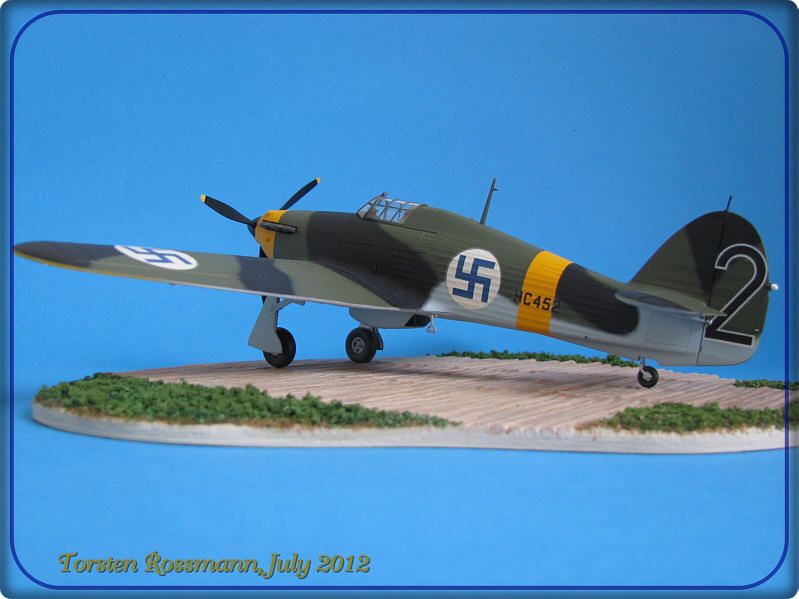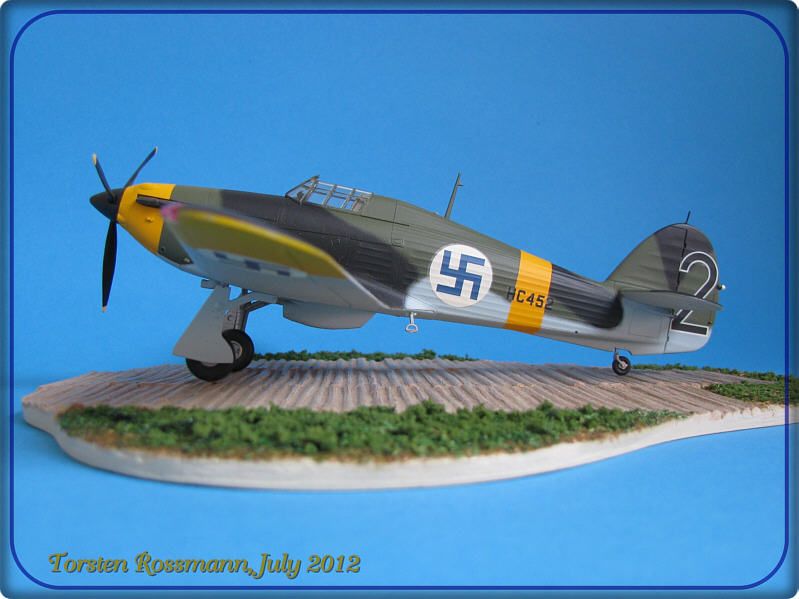 Hasegawa brought out this kit as a limited edition in 2001 and I got it in 2005. So it rested 7 years in my stash before I have built it
On the decal sheet Hasegawa offers the option of just plain white disks and white disks with the Hakaristi. I took the plain disks as a "primer" to get the Hakaristi decals opaque. Usually their decals are not so good in that. As this is quite an old kit it still goes together very well and I needed only a tiny bit of filler on the underside where the wings meet the fuselage. Everything else went together like "add glue and shake". Only a bit of sanding here and there was necessary. Also the decals were still of fine quality after all these years in my stash ....
On this kit I used Russian Light Grey Blue R27 from Agama for the underside (same colour as on my Sturmovik). For the upperside camo I completly used Revell Aqua Color, Olive Green 361, Black 302, Yellow 310 and Red 36. The wheel wells are again painted with Aluminium 99. Final coating was made again with satin varnish from Marabu. For the canopy I used the Eduard mask EX 039. My Hurricane shows nearly the warpaint she wore in June 1943 at Kilpasilta, just before she was stored in the depot. Unfortunatly the registration code HC-452 is in small letters. The aircraft got those in her early days in Finland when she still had British camouflage on. I couldn't find bigger letters in my spare box. Sorry for that.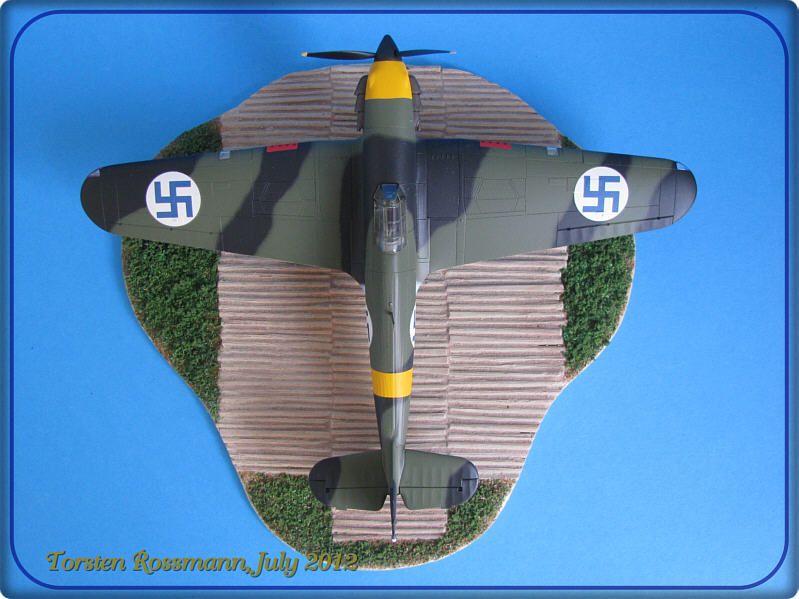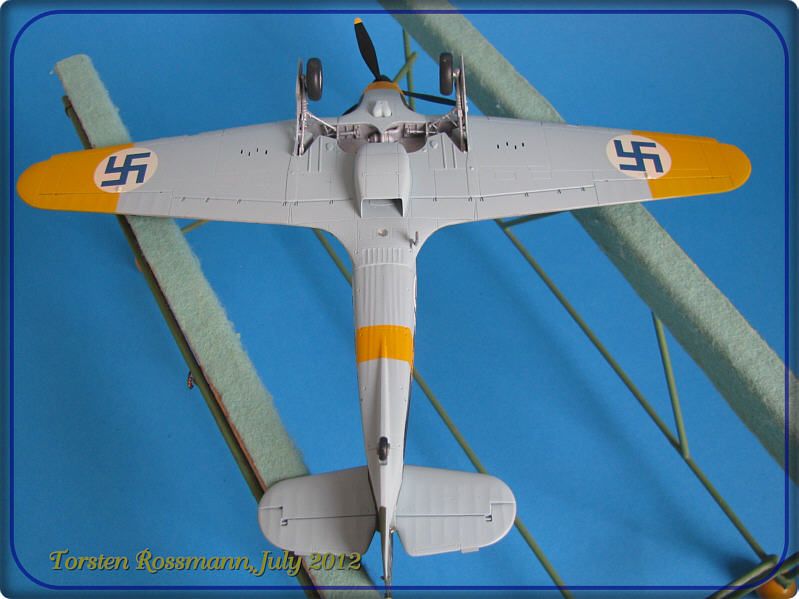 I say "kiitos" for looking and hope you enjoyed my little walk around this old engine, which is still alive today.
A special thanks goes out to my Swiss friend Beat Gysi, who helped me with a lot of information about this special aircraft
And if anyone of you has a good photo of the pilot, I would appreciate if you can post it here. As always comments are welcome.
Happy modelling!
Torsten