Earlier this year I appealed for help seeking reference and plans for one of these vehicles. As usual members of this forum and particularly the Irish modelling community, came foreward with kind help. I hope to post the resulting build as it goes forward.
Firstly a little background. At the start of the Anglo-Irish War in 1920 the British Army purchased several hundred Lancia Lorries, which they had also used in the Italian Campaign, and had them converted to wheeled APC's by having the Inchicore railway workshops just outside Dublin, add an armoured box body.These were issued to BA units and the Royal Irish Constabulary (RIC).
At the end of the war these were issued to the newly formed Royal Ulster Constabulary(RUC) and begged, bought or simply stolen by the new Irish ( Free State) National Army to use at the start of the Irish Civil War. They remained in service the the Irish Army till the 1930's and with the RUC till 1967.
In my researches I came across as many as 6-8 different minor mods between vehicles so I followed the traditional and sound modelling practice of finding a photo of a particular vehicle and building that.
So and luckily for me, the most photographed and most interesting
is the star of Walter Doughty's series of Dublin war pictures, 01-9213 taken at the corner of Henry St and O'Connell St in central Dublin,
sheltering the crew of an 18 pounder field piece shooting across at anti-Treaty insurgents in the Dublin Tram Company's offices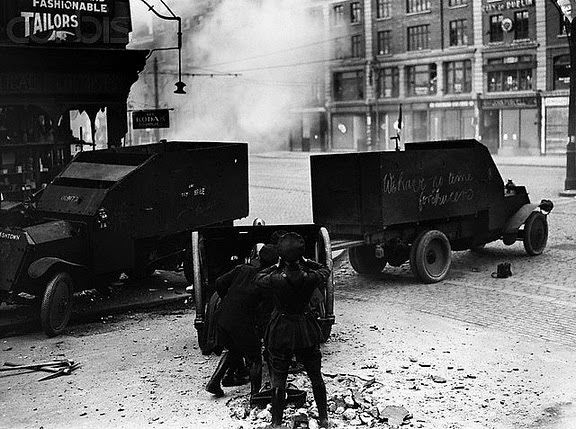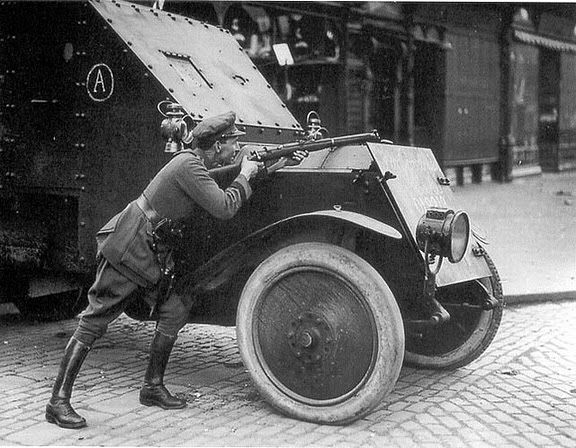 You can just see written on the front and side plates
"we have no time for Trucers" and " For goodness sake, aim straight"
The vehicle is quite basic and I hope it wil prove a fast build.
I apologise for more writing than pictures but I will get there.
regards